It was a session of the International Conference on 'Strategic Transformations: Museums in the 21st Century' held in February this year.I was listening to Prof. Hans Martin Hinz, President ICOM. ICOM is the abbreviation of the International Council of Museums which is the largest body of association of Museums in the world with over 30,000 members from around the world. During his speech he said 'Collections make connections' which remained somewhere in my unconscious mind. But, do collections make connections? Let's explore together-
Like other youths of today, I also used to think museums as boring places and never preferred to go there in my leisure time. My last memory of visiting any museum was of Patna Museum around 1988 as a part of the educational excursion of my school. In that visit, as a child we were more inclined towards a visitor from Seoul, Korea who was also there to visit the museum and not in the collection of the museum. We wanted to get autograph of that fellow and to get a photograph with him. He was kind enough to give consent for both. I still remember his words very clearly-'You all are here to see these objects and not to see me.' But as a child we never cared and did what we wanted to do.
In the evening of that day of the conference, Sankriti Kendra, Delhi had hosted a dinner for the delegates of the conference. We reached the museum complex around 7.30 PM. As we entered the museum complex we felt entering in a traditional Indian village. The museum has maintained rural ambience and is a wonderful place to visit. It instantly reminded me of my village where we used to go during summer vacation in schools. Trees, grasses, earthen houses, pottery, animal figurines made of earthen clay etc. Everything was similar to traditional Indian village which we miss in our hectic life schedules. This was first connection with our roots.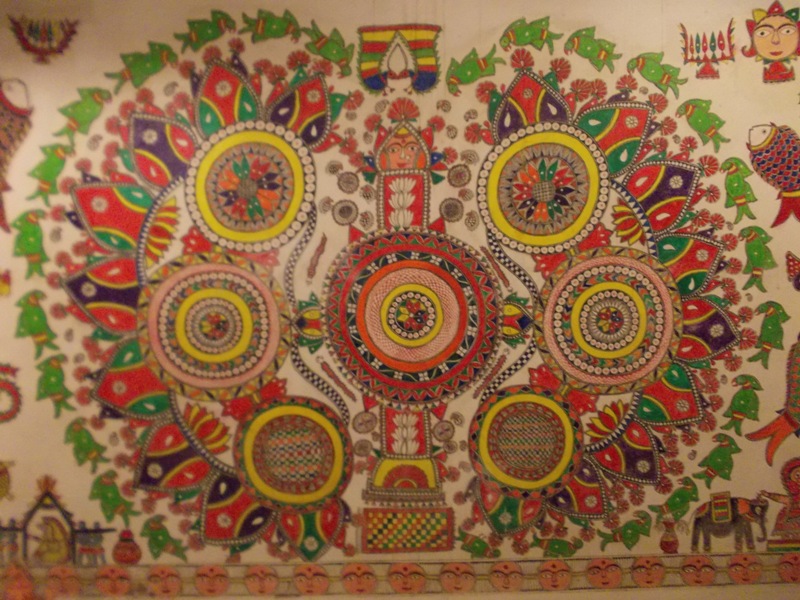 Mithila Painting
After welcome snacks and before starting of the dinner, we were invited to see the collection of the museum. I was visiting with M. Balaji, Project Coordinator, Goa Science Centre. While going through the galleries, we were discussing about the collection and also capturing photographs of the objects. One of the galleries was on art and crafts of different states of India. Suddenly, I was awestruck on a wall painting. It was a Madhubani Painting. I don't know how but I got words in my mouth. I said to Balaji- 'Look, This is a Madhubani Painting. Isn't it beautiful?' and I started to tell him about this painting tradition of Bihar. I am from Bihar, a state of India and I felt an instant connection to see that painting at a place far away from Bihar. Before seeing that painting, I was feeling tired and wanted to have dinner and go back to our place of stay but that painting made my evening. I felt thrilled and enjoyed the rest of the evening and retuned back to my place of stay around mid night.
Next day there was a guided tour to Crafts Museum, Delhi. We started our journey in the Crafts Museum with its first gallery on Ghosts. A senior curator of the museum was showing us the exhibits and was also explaining about them. After going through some of the galleries, he showed us some beautiful vase, baskets, dolls etc. made of Sikki and said this is a craft of Bihar. You can't imagine how I was feeling? I felt proud to see another thing of Bihar in a well know museum. This was my third connection with the collection of the museums in just two days. Sikki is basically a grass found in Bihar and some portions of Uttar Pradesh and making baskets, toys etc. from that golden grass fiber is an ancient tradition. I have seen those things in frequent use in my childhood. Now days, we don't find it commonly. Another such thing which I saw in the museum was 'Kantha and Sujni embroidery work of Bihar.
Here comes the role of the museums. They collect those objects for generations to come and to enlighten them with their rich tradition and heritage. The theme of this year 'International Museum Day' is also 'Collections make Connections'. With my personal experience, I can say museums are relevant places and collections make connections for sure. So, the next time when you plan to visit a place in your leisure time, do think about a museum. Some collections are waiting there for making connections.
Courtesy: Bodhivriksha
Satyajit N. Singh is Public Relation Officer at National Council of Science Museums (NCSM) which is an organisation under Ministry of Culture, Govt. of India. He has worked as Manager Public Relations in Bihar Foundation under Dept. of Industry, Govt. of Bihar. Along with his long experience in the field of Public Relations, he is a prolific writer and writes on diversified topics ranging from development issues, diaspora, Investment, Social Issues, Science etc. He regularly writes on his blogs http://biharfoundation.blogspot.in/ and on http://bodhivriksha.wordpress.com/